Allocate Plus provides an internet-based class allocation and management solution that is designed to meet the challenge of an institution's class allocation needs.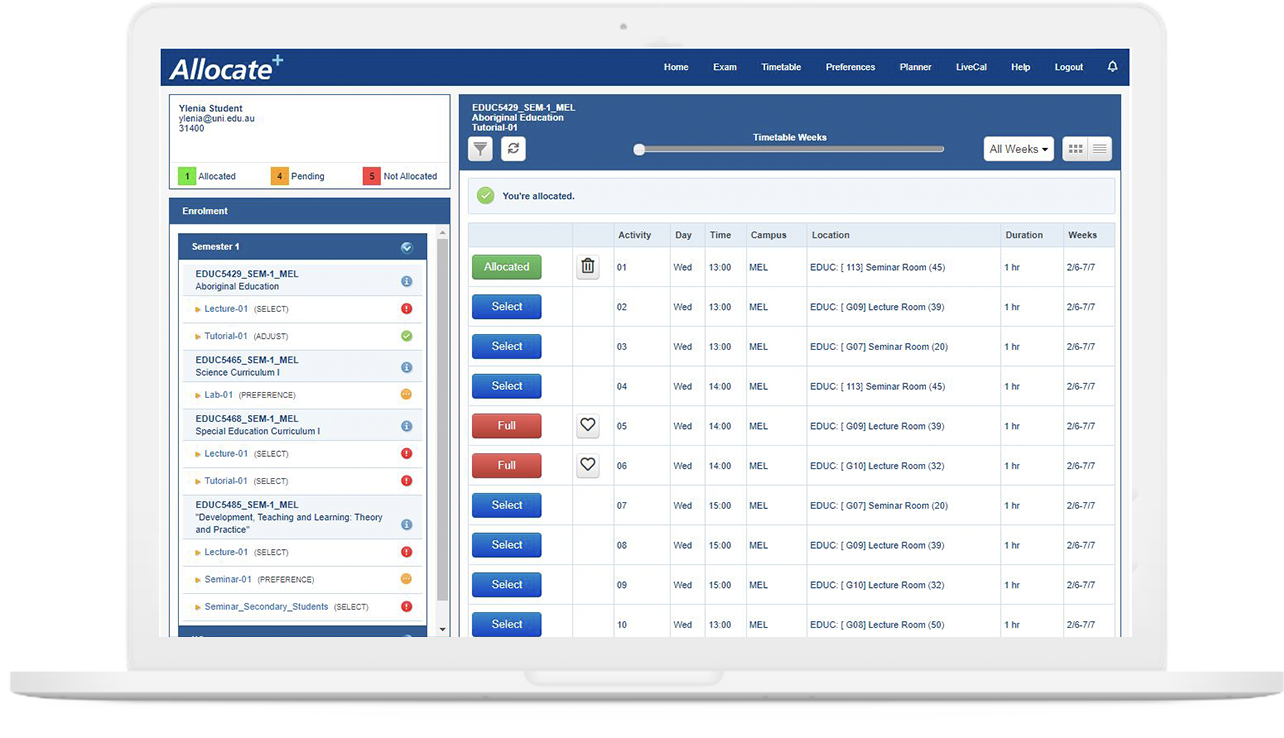 Allocation of students to class times within today's tertiary institutions is an increasingly complex and time-consuming process.
Pressure to offer increased services to students, with an ever decreasing and inflexible pool of resources presents a great challenge to administrators. Allocate Plus is the market-leading solution, used by many institutions to meet this challenge.
Allocate Plus supports student preference entry, first come/first serve allocations and hybrid approaches and guarantees clash-free student timetables.
Allocate Plus is constantly under review with regular enhancements being built and released - the majority of them coming directly from the requests of our clients. We continue to improve the solution to make it the premium class registration (allocation) solution in the world.
Created in Melbourne more than 20 years ago, today it is used in more than half of the universities in Australia, including the majority of the G08 Universities and Sandstone Universities, resulting in over 50% of University students in Australia registering for classes through Allocate Plus.
Products
Allocate Plus Features
Allocate Plus is a class allocation and management system designed to streamline and simplify an institution's class selection processes. Combining proven class allocation methodology with the power of cloud technologies and sophisticated algorithms, Allocate Plus provides a user centric, resource friendly solution to class allocation.
---
SaaS
24/7 availability, real-time information, scalable to any load, mobile-friendly
Supports Flexible Pedagogy
Create rules around student allocation, time table combinations and other constraints
Resource Friendly
Modify the system to arrange students around your available resources or add resources to popular times
Intuitive Clash Management
Prevent students from creating clashes in their timetables
Allow staff to override where clashes might be acceptable
Seamless Integration
Student data
Timetable data
Calendar syncing
Student Centric
Students can self-manage class swaps, online options, workgroups and preferred class allocations
Dynamic Reporting
Resource utilisation statistics, Student allocation tracking, Student Class lists
Attendance and Assessment
Easy to use interface for staff to record student attendance and assessments
Web Publisher
A public access interface to subject timetables
Live Cal
Schedule collaborative time with classmates
Staff Timetables
Staff can access and download their personal timetable
Planner
Allow students to pre-plan their timetable prior to allocations opening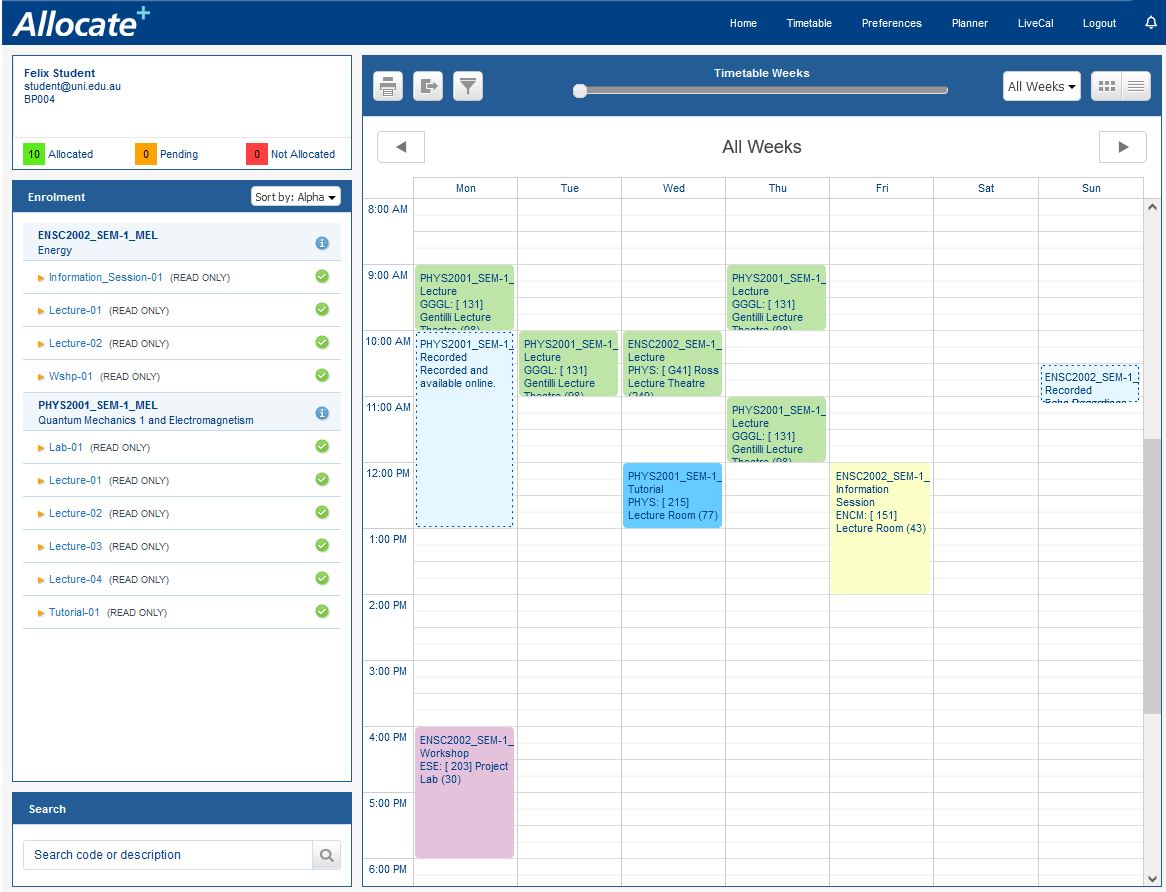 Allocate Plus and your requirements
Consisting of a number of modules, Allocate Plus is a purpose-built platform designed to improve an institution's timetabling environment.
The student experience is improved by providing a mechanism to enable students to view available classes based on their current enrolment and submit their preferences.
Efficiencies for administrators are realised via automated data imports from neighbouring systems. Time-saving 'sort' routines automate the allocation process, during which student attributes are collected, ranked and randomised resulting in the student being allocated to a clash-free timetable.
Students have the opportunity to view their timetable, and if they want to change their allocation or have not been allocated, they may choose from available remaining time slots for an instant allocation.
Allocate Plus also accommodates class swaps requests and waitlists.
Allocate Plus Implementation at RMIT increases student and staff satisfaction rates
RMIT found their custom built class registration process was unsustainable being resource intensive, with limited system integration, causing delays in the timetable being finalised. The original timetabling system was leading to a poor user experience for both staff and students.
Allocate Plus integrated to numerous established systems generating positive student feedback at Allocation opening.
"I have found the engagement, responsiveness, flexibility and professionalism shown by JDR to be 5 stars".
Warrick Burgess, Senior Manager, Timetabling Services, RMIT University
If you are:
Looking for improvements in your student enrolment experience
Aiming to reduce unnecessary workload for your student support staff
Wanting to reduce the number of hours spent on creating timetables
Frustrated by the lack of synergy between your student management system and your scheduling system